Water Damage Restoration in Great Neck
Water damage is a major contributor to loss of property. Leaking pipes, burst sewer lines, and natural disasters can often leave your home severely water damaged. Water damage varies in magnitude, the harm may not be noticeable, too slow to detect and might be minor such as water spots that could eventually ruin a surface, or it may be immediate and disastrous such as burst pipes and flooding.
When water strikes and damage happens in your Great Neck, NY property you need a trusted local team, such as Feet Up Carpet Cleaning Great Neck to contact for emergency water damage restoration. Call us at 516-331-2052 to get a free estimate.
What Does Water Damage Affect?
Water can wreak havoc on your home's foundation and on internal features and furnishings. This can easily require a hefty restoration bill if left unattended. The following are parts of your structure that water damage can affect:
Ceilings
Pipes
Wood
Drywall
Bedding
Electrical wiring
Floor covering
Call the Water Damage Restoration Experts Now
Are you a resident of Great Neck, NY and its environs, and need a water damage restoration service? Reach out to our team, we are ready to receive your calls. Once called upon, our team proceeds with the following plan:
Source of Damage: To find solution to any problem, it is best to know the root or source of the problem and then find a lasting solution to it. Before starting water damage restoration, the first thing our specialist do is to identify the source of the damage. After this is done, they go ahead to determine the best approach to stop the water flow. If there's need for a water extractor to be used, they immediately engage the equipment to pump out the excess water.
Degree of damage: another important factor we consider is the degree or the level of the damage. Where the damage is light, it becomes easy to clean up the house within a couple of hours. However, where the damage is severe, you might have to find shelter somewhere else for a couple of days while our experts go ahead with the water removal, cleaning and restoration process.
Find hidden mold: mold is subtle. They can hide out of sight, especially if they start growing behind walls. Secondary damage from mold growth is the number one risk of delaying water damage restoration. Our specialists have been trained on how to locate mold. This is one of the crucial reasons why you must not try to handle water damage by yourself. In the short or long run, you will end up wasting precious time, effort and resources. What's even more painful is you might end up putting yourself and loved ones at risk as mold is harmful to the health and can spread within little time with a good water source.
Water damage restoration: the remediation process involves quite a number of activities. We have water extracting machines that can excavate large quantity of water with a small frame of time. After the extraction of water and the closure of its source, we go ahead to dry affected areas using professional drying equipment. We inspect for mold and where they are found, the appropriate mold remediation plan is executed. After which, we conduct a thorough cleaning and restoration of affected materials. After this process, a thorough monitoring and inspection is carried out by the team to ensure everything is in top condition before the departure. In the end, we make sure our customers are satisfied with our service before leaving the work site.
Why You Should Call Us
For several reasons, we are your surest bet against any form of water damage!
From minute water damage to severe disaster damage restoration, our team are highly equipped to swiftly respond to your call. We have at our disposal sophisticated and updated machines that are required for a good job.
We have highly certified personnel who are ever enthused to work with you to ensure your water damage problems become a thing of the past.
Your well-being is our priority at Feet Up Carpet Cleaning Great Neck! Just give us a call at 516-331-2052, we will swiftly and gladly respond.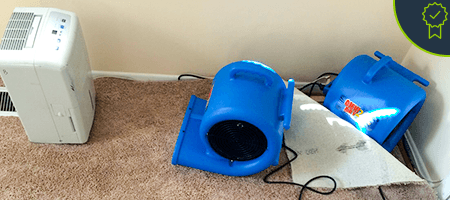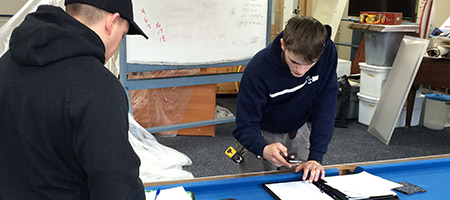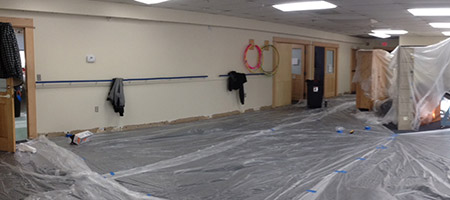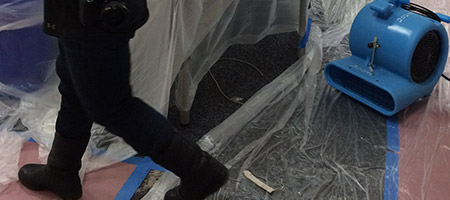 FAQs for Water Damage Restoration
How Long Should Water Damage Cleanup Take?
Water damage cleanup takes about three days to two weeks. It depends on several factors, such as the size of the damaged area, type of water damage and others. It is, therefore, imperative to call a professional water damage restoration team as soon as you notice water damage problems in your home.
What Causes Water Damage?
There are several causes of water damage to your property. They include:
Severe weather, like hurricanes, thunderstorms.
Leaking plumbing – look for leaking plumbing and repair them immediately.
Faulty and old appliances.
Air conditioner - condensation from the air conditioning unit may cause water damage in your property if the draining pan is damaged or the drain line is clogged.
Clogged gutters - make sure that your gutter system is clean avoid having water damage.
Blocked drains- blocked drains will prevent drainage of water and cause water damage to your premises.
Can Water Damage Cause Mold?
Water damage can cause mold on your property. Mold grows in wet areas, and water damage will provide the perfect conditions for this growth. Mold will grow in 24-48 hours after water damage.