Upholstery Cleaning Services in Great Neck, NY
Upholstery is one of the highest traffic-bearing elements of every home. This is why engaging upholstery cleaning services for your furniture on a regular basis is vital to maintaining cleanliness and hygiene. If you're looking for upholstery cleaning in Great Neck, NY for your home, we'd be happy to offer our excellent services.
Often homeowners tend to put off upholstery cleaning for as long as they can, thinking that since it is in prime condition it doesn't require immediate cleaning. The truth is that your upholstery can be quite sneaky and hide hordes of invisible or difficult to spot bacteria, germs and other forms of health hazards. However, by regularly cleaning it, you ensure your family remains safe from any hidden allergens, bacteria and germs that could pose a health threat.
Upholstery Cleaning Services in Great Neck, NY
It is important to prioritize upholstery cleaning because your suede lounge chairs, favorite leather sofas etc. could be hiding tons of germs. Besides keeping your furniture in top working order, Feet Up Carpet Cleaning Great Neck will also ensure your home remains healthy, clean, and happy.
In case you are wondering why it is so important to engage upholstery cleaning services for your home, here are some essential reasons you must know.
Keeps Your Office or Home Environment Healthy
Upholstery can quickly become a breeding ground for multiple germs, bacteria and allergen. Regardless of whether it is in your home or office, you find someone occupying the upholstery at all hours of the day. Some even love to eat their meals on it and this can cause crumbs and other food particles to settle into the furniture too. With time, all of these elements will make your upholstery unclean, unhygienic, smelly, and uninviting.
With regular cleaning, your furniture stays clear of the harmful and dirty elements. Plus, it feels more inviting to spend some relaxing time on it.
Upkeep
With regular upholstery cleaning, your furniture maintains its prime appearance. The texture and color does not wear off and stains, odors, grime, dust and dirt are kept at bay. In fact, if you have pets at home, upholstery cleaning does a splendid job of removing the unwanted stray hairs.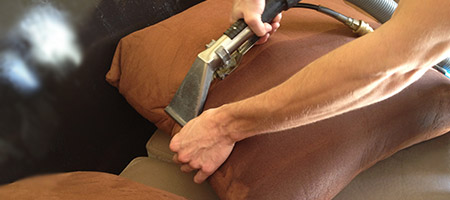 Cost Efficiency
Depending on your upholstery's manufacturing, it will surely have some padding underneath it. This can soak up spills fast. So even if you clean the surface thoroughly, remember the padding underneath is still containing all the filth. If you do not give it professional cleaning through a surface, the padding underneath will rot faster and eventually you will have to replace it. Upholstery does not come at a cheap price and if you have to replace it sooner than you should, you will suffer more expense. Hence, regular upholstery cleaning will save you costly replacements in the long run.
Upholstery Cleaning Eco-Friendly Methods
Let's look at the eco-friendly methods our professional upholstery cleaning service uses.
Steam Cleaning/ Hot Water Extraction
Our professional upholstery cleaning service in Great Neck employs the steam cleaning or hot water extraction technique. We employ excellent equipment that is not only time and energy saving but also cleans upholstery like a miracle. Our steam cleaner equipment produces hot water that pulls out stains, dust and grease that is embedded deeply in your upholstery. This will guarantee a meticulous cleaning.
Deep Cleaning
Our deep cleaning technique features an array of eco-friendly and green products. We abide by a strict policy of using products that contain no harmful chemicals, are non-toxic, produce little to no odor and are eco-conscious. We ensure that our cleaning supplies are safe for all your household members but at the same time clean and sanitize your upholstery rigorously.
Foam Cleaning
Our foam cleaning process features a no steam and water technique. Our experts use a special dry foam machine that produces dense foam that our technician applies to and scrubs your upholstery with. It works immediately to clean and restore your furniture to a brand-new looking condition.
Why Choose Us
If you are looking for professional upholstery cleaning services in Great Neck, NY then you should contact Feet up Carpet Cleaning Great Neck. We guarantee to be the best local professional service near you. By availing yourself of our services, you will ensure your upholstery gets the best treatment from highly trained cleaning staff members. Our professional cleaners do a thoroughly perfect job to sanitize, clean and revive your upholstery.
We design specific cleaning techniques to suit all kinds of upholstery fabrics. Our professional services will ensure your upholstery is ready for use within a few hours.
Final Thoughts
If your upholstery is in need of professional cleaning services, we would be happy to offer our help. With our trained staff and excellent cleaning equipment, we promise to make your upholstery look new in just a few hours. Call our upholstery cleaning specialists at 516-331-2052 to get a free price estimate!