Professional Mold Remediation Services in Great Neck
When mold grows in your house or commercial facility, your lungs, eyes, and skin will pay rent. Every homeowner or apartment owner in Great Neck, NY has fears concerning repairs. But it can get complicated when mold grows in your business or home. It can grow greatly even if you cannot see or smell it and when it sends out spores into the air, you are at risk of health issues from mold exposure. Mold is not always detectable, but you can inspect some common areas that it thrives, such as bathrooms, ceilings, basements, sinks, and walls. Look out for these indications that you may be facing a mold problem:
Mold odor
Dark-colored spots on bathroom or basement walls
Leaky pipes
Allergic reactions like stuffy nose, irritated eyes, sneezing, and coughing
You should take immediate measures if you notice any of the above signs. Consider hiring a professional mold remediation service in Great Neck, NY before more issues arise. Our experts in mold removal at Feet Up Carpet Cleaning Great Neck have advanced equipment and experience in remediating mold & mildew. You might risk mold re-infestation if you try to remove or treat mold without the assistance of an expert. Mold can start to grow after a flood, due to poorly ventilated rooms, or as a result of water leaks. In any case, the only way to get rid of mold is professional mold remediation.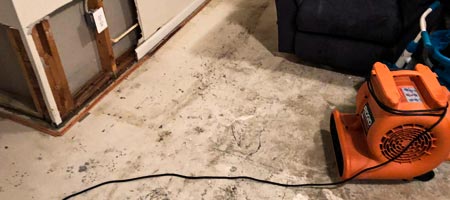 What Will Happen if You Leave Mold Untreated?
Mold has adverse effects on your health, especially your respiratory system, if untreated. It also triggers symptoms of illness in people with asthma and other allergies. Mold also has adverse effects on the structure of your home or apartment. It would help if you acted fast when you notice signs of mold on your floors, wooden walls, and ceilings and search for mold removal services in Great Neck, NY.
We understand that mold can be severe, which is why you can access our mold treatment and mold removal services in Great Neck, NY at any time of the day or night. Our fast response reduces costs, eliminates the possibility of severe health issues, and reduces property damage. Call us today at 516-331-2052 for a consultation with our certified mold technician and make an appointment for a mold inspection.
Our Range of Mold Treatment Services
Our mold remediation company offers a wide range of services for your safety and the structural integrity of your facility or building. Feet Up Carpet Cleaning Great Neck boasts of experienced specialists to provide mold remediation services, mold testing, and mold inspection. We also disinfect surfaces to fight the COVID-19 pandemic.
Licensed and Certified Mold Remediation Experts
You can choose our licensed, certified, and insured mold remediation experts. Our Great Neck clients trust us for a full-service remediation. You can hire our licensed contractors to rebuild your home or office and complete the project professionally and on time. We have a record of success, which gives our customers confidence as they hire us for mold removal. Feet Up Carpet Cleaning Great Neck has the most affordable methods to get rid of the mold in the city.
Experience matters when it comes to mold treatment and remediation. Our specialists use advanced equipment and techniques for mold treatment analysis, mold testing kits, mold inspections, and mold removal. We target homeowners, facilities (like hospitals), apartments, and businesses. Mold inspection and mold testing are necessary when you need to prove mold infestation to your insurance company. Here is why you need to contact us today for our licensed mold remediation services:
Save money
Proper treatment
Knowledge of mold remediation
Prevent future problems
Our mold remediation cost and mold removal cost are quite affordable, and you can get a detailed estimate after an assessment.
Mold Remediation in Great Neck, NY
Our mold remediation process is thorough and follows the mold remediation protocol for our clients' safety. Our first step at Feet Up Carpet Cleaning Great Neck is to have our customers consult with the specialists and mold testing or inspection. We also include mold prevention and work area set-up in our remediation process. After that, our specialists discard moldy materials like wallpaper and insulation. We clean and conduct an anti-microbial treatment using safe and effective mold remediation chemicals. We finally restore your building to complete our remediation process.
Final Thoughts
For any mold issues, you can't go wrong with Feet Up Carpet Cleaning Great Neck. The longer you wait, the more mold grows and causes health and structural damage. To make sure that your home is skillfully treated for mold, contact Feet Up Carpet Cleaning Great Neck at 516-331-2052.